Classically Keto
Classically Keto
Ok guys, I'm not trying to push any type of diet on you. My plan here, is to give out some really delicious tasting home-grilled recipes that are absolutely the bomb (below)! I started the keto diet for all its many benefits, but the best part of this whole journey has been the tasty flavors that my wife and I have come up with when cooking.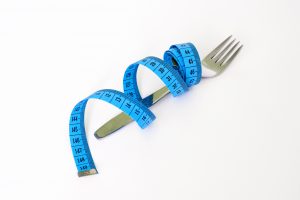 My wife just recently started the keto diet herself, her main purpose was to try and lose weight, my purpose was not only to lose weight, but to feel great, have more energy, and to be able to think more clearer. I've been doing Keto since the beginning of February 2018. I started off being quite true to the diet, until I started losing too much weight, and I'm sorry, but being too skinny is not something I care to be. So, on weekends I do "fall off the wagon" so-to-speak, so I can enjoy the occasional alcoholic beverage, or a dinner out with the wife/or the family, treats at birthdays, and get-togethers with family and friends.
The best part of doing the keto diet is the type of foods you can eat. The downside to the diet is the type of foods you aren't able to eat. Minimal carb intake and avoid sugar as much as possible, BUT you can have a lot of fatty foods. If you are looking for more information, the link provided can help you get started to getting a better understanding of what keto is all about.
It took my wife longer to get started because she loves her carbs. Anything bread or pasta.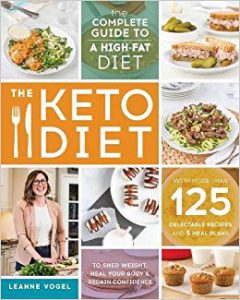 There are keto recipes that allow for breads, but that's if you really get into it the keto "diet" hardcore, and that is something I haven't done. Click on the recipe book if you're curious about the types of ingredients that some of the recipes call for.
If you're like me, and just want to stick to what you're familiar with, and want to eat food that tastes great, than you'll have no problem creating some of these delicious foods right at home or even camping.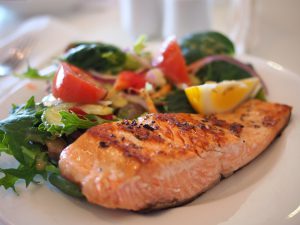 With trying to include as much fish into my diet (for the Omega' fats), we first started grilling salmon on the grill, which included brushing on olive oil and sprinkling on some fresh dill, and a little ground black pepper; was all the salmon needed. Pan seared scallops were another Saturday night treat for the wife and I. The best part about the scallops were, we were able to find them at our local Aldi, in the freezer section. Sometimes we use olive oil to fry them, sometimes we use coconut oil. Depends on what follows these delicious appetizers.
Another keto favorite was the jalapenos stuffed with cream cheese and cheddar cheese, then stuffed into a filleted chicken breast that was then wrapped in bacon, covered in a pork rub and coated with baby' rays bbq sauce (which can also be purchased at Aldi). The cooking process takes about 2 hours, since you will cook the chicken on low. Making sure to add bbq sauce after each time you flip them. I also used wet hickory chips in foil in the side bottom of my grill to add that smokey flavor as well.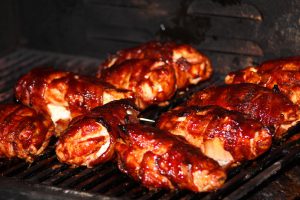 MmmmMmmm… delicious.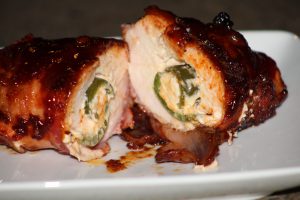 Also made these again the following weekend. The leftovers tasted just as good as the day I prepared them.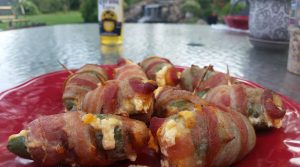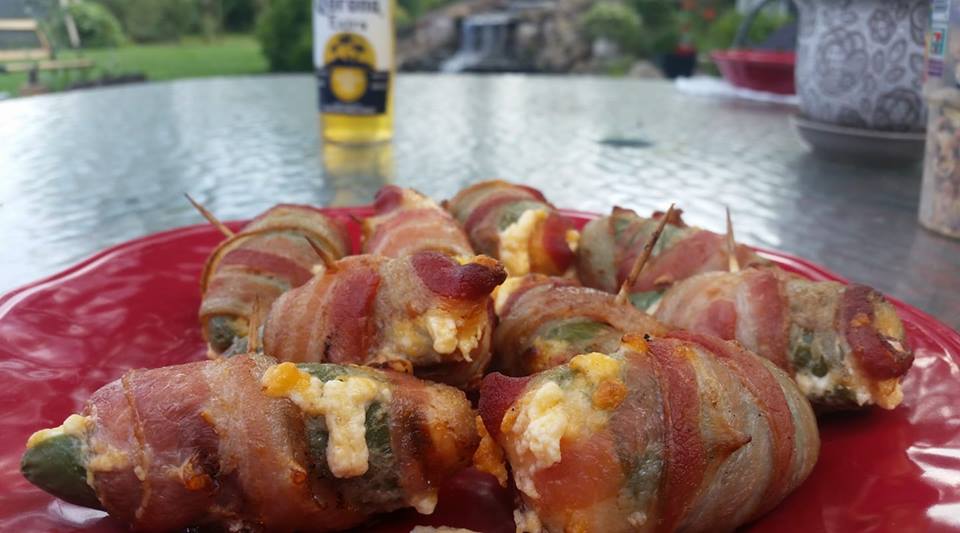 With the leftover stuffed jalapenos I wrapped them in bacon and cooked them up as appetizers, and again, we had them the following weekend as well. It's nice to have a little something before the actual main course.
Along with the bbq stuffed chicken, my wife had made a avocado, cucumber, and egg salad to go along with it and it tasted just like a summer bbq dinner all together. Gave us the illusion we were eating a type of macaroni or potato salad.
Because my wife is newly starting this diet, she doesn't take breaks on the weekends or when we have guests over. We had celebrated one of our daughter's birthdays on a weekday and I didn't want to waiver off the keto too much.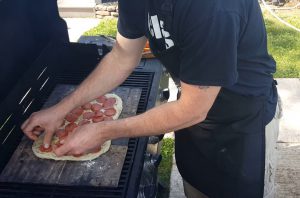 We cooked up Classic Jeff's famous grilled pizza using my oldest daughters great tasting homemade pizza dough. Unfortunately, pizza dough is not on the list of keto friendly foods. So, my wife had to be creative and took some of our home grown zucchini, sliced them lengthwise, scooped out the seeds, and cooking them face down on the top grill rack.  Then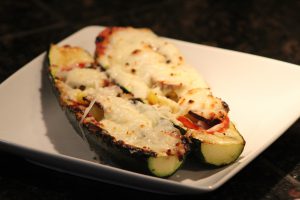 I flipped them once one side of the zucchini was cooked.  I then brushed on the sub oil we use on our dough, then filled the zucchini pocket with selected pizza toppings, and continued to cook it (Our toppings: pepperoni, banana peppers, mushrooms, and mozzarella cheese. It was so good that my wife said she felt like she was cheating!
There are more tasty foods that I plan to bring to my grill and to my stove/oven as the seasons change. I plan to keep updating Classically Keto as often as I come up with new and delicious foods. If you, or anyone you know, have any great grilling recipes or any keto friendly foods please comment below. We would really appreciate more ways to cook great foods. Thank you for checking out Classic Jeff and I hope you share this with your family and friends.